Congratulations to Miriam Ticktin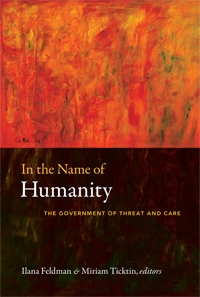 Congrats to our coeditor Miriam Ticktin on the publication of her coedited volume (with Ilana Feldman), In the Name of Humanity: The Government of Threat and Care (Duke University Press).
Here's the book description:
Scientists, activists, state officials, NGOs, and others increasingly claim to speak and act on behalf of "humanity." The remarkable array of circumstances in which humanity is invoked testifies to the category's universal purchase. Yet what exactly does it mean to govern, fight, and care in the name of humanity? In this timely collection, leading anthropologists and cultural critics grapple with that question, examining configurations of humanity in relation to biotechnologies, the natural environment, and humanitarianism and human rights. From the global pharmaceutical industry, to forest conservation, to international criminal tribunals, the domains they analyze highlight the diversity of spaces and scales at which humanity is articulated.
The editors argue that ideas about humanity find concrete expression in the governing work that operationalizes those ideas to produce order, prosperity, and security. As a site of governance, humanity appears as both an object of care and a source of anxiety. Assertions that humanity is being threatened, whether by environmental catastrophe or political upheaval, provide a justification for the elaboration of new governing techniques. At the same time, humanity itself is identified as a threat (to nature, to nation, to global peace) which governance must contain. These apparently contradictory understandings of the relation of threat to the category of humanity coexist and remain in tension, helping to maintain the dynamic co-production of governance and humanity.
Here are some endorsements:
"Like 'nature,' 'humanity' is a Protean concept that confers immense capacity on those able to act in its name. Exploring the term and its effects from three key vantage points—humanitarianism, medicine, and environment—the papers in this outstanding collection offer up a stream of provocative insights and challenging perspectives. In the Name of Humanity is sure to become an essential reference point for future discussions of the human, its outsides, and its negations."—Hugh Raffles, author of Insectopedia
"In a complex world where competing groups claim to be speaking on behalf of incommensurate versions of 'humanity,' the authors represented in In the Name of Humanity ask not what humanity is but what are the epistemic, market, and governmental logics and environmental parsings that fashion humanity and the humans who will inhabit humanity in the twenty-first century."—Elizabeth A. Povinelli, author of The Cunning of Recognition: Indigenous Alterities and the Making of Australian Multiculturalism
Congrats Miriam!
This content is restricted to site members.
If you are an existing user, please login. New users may
click here
to subscribe.