Congratulations to Robert Meister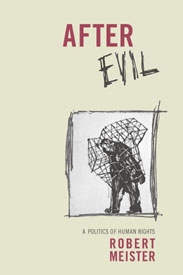 Humanity editorial board member Robert Meister has recently published a new book.
Here is the book description:
The way in which mainstream human rights discourse speaks of such evils as the Holocaust, slavery, or apartheid puts them solidly in the past. Its elaborate techniques of "transitional" justice encourage future generations to move forward by creating a false assumption of closure, enabling those who are guilty to elude responsibility. This approach to history, common to late-twentieth-century humanitarianism, doesn't presuppose that evil ends when justice begins. Rather, it assumes that a time before justice is the moment to put evil in the past.

Merging examples from literature and history, Robert Meister confronts the problem of closure and the resolution of historical injustice. He boldly challenges the empty moral logic of "never again" or the theoretical reduction of evil to a cycle of violence and counterviolence, broken only once evil is remembered for what it was. Meister criticizes such methods for their deferral of justice and susceptibility to exploitation and elaborates the flawed moral logic of "never again" in relation to Auschwitz and its evolution into a twenty-first-century doctrine of the Responsibility to Protect.
Here is the endorsement:
"The rare work of a genuine thinker, one who permits no phenomenon, discourse, event, or category of analysis to be assumed or left uninterrogated. After Evil also offers a supremely important and timely argument, one that cuts to the quick of bids for justice in the aftermath of extreme orders of domination, exploitation, and extermination." — Wendy Brown, University of California, Berkeley

This content is restricted to site members.
If you are an existing user, please login. New users may
click here
to subscribe.